Jonah
约拿书
Overview of Book of Jonah
约拿书的概述
—Pastor Roger Ng
黄山严牧师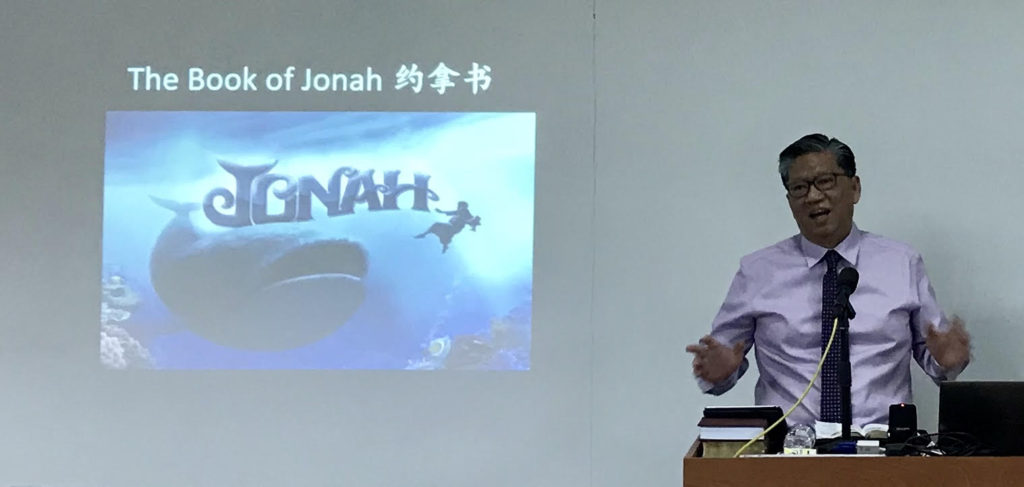 Introduction to Book of Jonah
约拿书的介绍
Jonah 约拿书
1:1-3
—Pastor Roger Ng
黄山严牧师
Running From God
Jonah 约拿书
1
—Pastor Roger Ng
黄山严牧师
Jonah means dove – a symbol of peace. Son of Amittai (Faithfulness) and a native of Gath-hepher; 5th of the minor prophets who prophesied during the reign of Jeroboam II (2 Kings 14:25) and whom God sent also to prophesy to Nineveh (Jonah 1:2)
Jonah 1 looks at Jonah running from God's calling to Nineveh and the Sovereignty of God…
The Sailing (Running) Jonah (1:1-3)
The Sovereign Lord (1:4-17)
Now the word of the LORD came to Jonah the son of Amittai, saying, [2] "Arise, go to Nineveh, that great city, and call out against it, for their evil has come up before me."
Jonah 1:1-2
Prayer From the Depth
Jonah 约拿书
2
—Pastor Roger Ng
黄山严牧师
Jonah 2 look at a poetic prayer from Jonah's experience from the belly of the fish… it looks at Jonah proclaiming thanksgiving and that Salvation belongs to the Lord (Jon 2:9)
Asked for God's Help (2:1-2)
Accepted God's Discipline (2:2-3)
Assured of God's Promise (2:4-7)
Acceded to God's Plan (2:8-9)
The Focus of Jonah 2 is on the Mercy of God…
But I with the voice of thanksgiving will sacrifice to you; what I have vowed I will pay. Salvation belongs to the LORD!" And the LORD spoke to the fish, and it vomited Jonah out upon the dry land.
– Jonah 2:9-10
Repentance and The Grace of God
Jonah 约拿书
3
—Pastor Roger Ng
黄山严牧师
Jonah 3 re-focuses back to the narrative – this time with Jonah repenting and obeying God's instruction to go to Nineveh. The Theme is on Repentance and it all involved actions from Jonah, Nineveh and God…
Jonah Repented (3:1-3)
Nineveh Repented (3:5-9)
God Repented / Relented (3:10)
The focus on Jonah 3 is the Grace of God…
…and let them call out mightily to God. Let everyone turn from his evil way and from the violence that is in his hands. Who knows? God may turn and relent and turn from his fierce anger, so that we may not perish." When God saw what they did, how they turned from their evil way, God relented of the disaster that he had said he would do to them, and he did not do it.
– Jonah 3:8-10
Do You Know the Heart of God?
Jonah 约拿书
4
—Pastor Roger Ng
黄山严牧师
Jonah 4 concludes with looking at who God is – and the Love and Compassion God has for Jonah and Nineveh. Focus of Jonah 4 is on the Pity (Jon 4:10, 11) and Compassion of God
Character of God (4:1-4)
Heart of God (4:5-11)
Each time Jonah got angry (4:1, 9b), and angry enough to want to die (4:3, 9b) – God asked Jonah "Do you do well to be angry" (4:4, 9a) and used an object lesson of the God appointed plant, worm and scorching wind (4:6, 7, 8) to teach Jonah….
The theme of the Book of Jonah is summarised in Chapter 4 – on Who God Is (see also Exo 34:6):
And he prayed to the LORD and said, "O LORD, is not this what I said when I was yet in my country? That is why I made haste to flee to Tarshish; for I knew that you are a gracious God and merciful, slow to anger and abounding in steadfast love, and relenting from disaster. —Jonah 4:2
Sermons on the Old Testament
Sermons on the New Testament